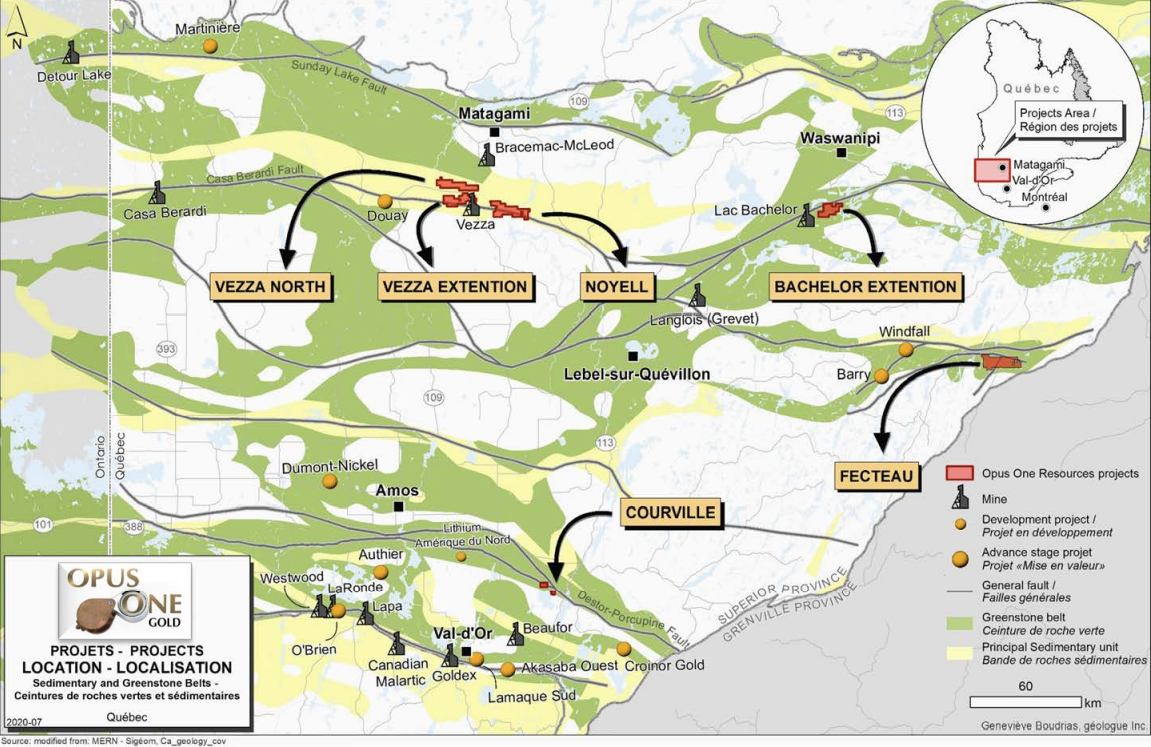 CASA-BERARDI-DOUAY-CAMERON PROJECT AREA
Opus One Gold owns three properties along the Casa-Berardi-Douay-Cameron deformation corridors in northern Abitibi for a total of 285 claims covering 10,860 hectares. These properties are located approximately 25 km to the south of the town of Matagami and are easily accessible by all terrain vehicles.
The three properties are located along well recognized gold bearing structures, and they host numerous gold showings. The former producer Vezza Gold Mine is located in between our Vezza Extension and Noyell projects. It is interpreted that similar favourable geological environments could be found on all our projects in the area.
---
URBAN-BARRY-WINDFALL AREA
The Fecteau property is located in the south-central part of NTS map sheets 32G/03, immediately north of map sheet 32B14 and approximately 120 kilometres south of Chapais. The L-209 main lumber access road cuts through the central part of the property where several secondary lumber access roads provide easy access to most of the property. The claim block lies within the northeastern part of Buteux Township with a small portion extending into northwestern part of Marceau Township, within the Chibougamau Mining District, Province of Quebec.
---
BACHELOR EXTENSION
The Bachelor Extension property is located 7 km North-east of Desmaraiville and 90 km North of the town of Lebel-Sur-quévillon, in the Le Sueur and Lespérence townships, NTS 32F08, 32F09 and 32G12. The property is located within the Cree communities of Waswanipi (Category III lands) in the Eeyou Istchee James-Bay territory and there are no exploration constraints neither on the property nor in its near vicinity. The property consists of 41 mining claims covering 2,292 hectares.
---
COURVILLE PROPERTY
The Courville Property lies within the township bearing the same name. The township is located in NTS 32C/06 in the Vallée-de-l'Or county municipality. The nearest towns are Barraute, observed some 18km to the west and Val-d'Or lying some 32km to the southwest. It is located less than 500 km to the northwest of Montréal just north of Pascalis Lake. Opus One Gold owns a 100% interest in the project